Great Dorset Chilli Festival 4th and 5th of August
Bringing the exciting world of chillies to the beautiful surroundings of Dorset for the second year, the Dorset Chilli Festival is a great day out for chilli enthusiasts, food lovers and families. Held with the kind permission of the Earl of Shaftesbury at St Giles Park, we've lined up a glorious August weekend of "chilli fiesta", with stalls selling all things chilli, from pepper plants to cayenne condiments; seeds to ceramics; plus cooking demonstrations; artisan food producers; music spicy street food; local ice creams to cool the mouth; local beers to slake the thirst.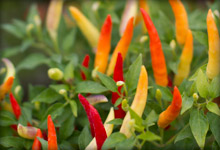 We've invited some of the most dedicated independent sauce manufacturers and retailers to let you try and buy; and some of the country's best specialist chilli growers to showcase their plants and seeds to thousands of visitors at what is sure to be this years' hottest event in Dorset.
St Giles House and Park has been the home to the Earls of Shaftesbury since the 15th century. It lies at the heart of Shaftesbury Estates, set within the Cranborne Chase and West Wiltshire Area of Outstanding Natural Beauty. The house and park are listed on English Heritage's Register of Historic Houses, Parks and Gardens, as Grade I and Grade II* respectively.
The park extends to 170 hectares (420 acres) and contains many features which make this landscape composition a unique and special place: a Beech Avenue, a Beech belt, mature parkland trees and pleasure grounds with a serpentine lake and elaborate grotto. At the centre of the park, sits St Giles House, which is currently undergoing a major restoration that will see it become a family home again after 50 years.
Lets hope the weather holds for the weekend folks! We will have loads of chilli sauces to warm you up if its cold!!
Adults (16 and over): £7.00
Children (11 to 15 yrs): £2.50
Under 11 yrs: Free
Family ticket (2 adults, 3 children): £16.50
OAP concessions: £5.50